Since Wisconsin issued a Safer at Home order on March 25, I have been leaving my home exactly once a week. Every Tuesday morning, I drive to a small town outside of Madison to spend an hour monitoring a nest of bald eagles. I've been volunteering for Bald Eagle Nest Watch since the beginning of the year, and three weeks ago I got my first look at two newly hatched eaglets. Over the past few weeks, I've found that my time at the eagle nest is a wonderful relief from the stress of the pandemic and the confinement to my home.
I'm not the only person escaping to natural spaces for relief during the widespread lockdowns in response to COVID-19. Parks have been filled with people taking daily walks and enjoying fresh air when there are few places indoors they can safely go. Besides encouraging many people to visit local parks and forests, the COVID-19 pandemic has revealed many complexities of humanity's relationship with the environment. The severe drop in human activities has resulted in decreased air pollution, as well as fascinating changes in wildlife behavior. However, the pandemic is also an important reminder that the environmental impact of human activity has drastic consequences for global risk of infectious disease. This Earth Day, it's the perfect time to pause and examine how the COVID-19 pandemic and the natural world are influencing each other for better and for worse.
A Return To Nature
Even before COVID-19 spread around the globe, changes in air quality were measurable in certain areas of China. Satellite monitoring by NASA and ESA showed massive decreases in NO2 density, beginning in the Wuhan area and spreading across China from January 1 – February 25. Nitrogen dioxide emissions are closely tied to fossil fuel combustion, and NASA air quality researchers strongly believe that the decrease is a result of the transportation shutdowns and business closures that the Chinese government implemented first in Wuhan and later in other major cities. ESA also reported steep declines in NO2 over Italy from January 1 – March 11, which can also be tied to the nationwide lockdown.
The improved air quality sparked many social media posts about clearer skylines, as well as a widespread Twitter meme about things that are now visible through the previously polluted air, such as the Death Star or the Universal Studios logo.
While the skies are beginning to clear up from decreases in transportation emissions, wildlife is beginning to take advantage of the near-absence of humans, especially where urban areas border natural spaces. Photos published by Axios show wild boars, mountain goats, and even buffalo wandering city streets, undisturbed by cars and trucks. These photos illustrate just how fragile the boundary is between spaces dominated by humans and spaces left for wildlife – in only a few short weeks, wildlife has emerged to reclaim the empty space.
According to the editors of Conservation Biology, biodiversity is thriving in protected natural areas such as state and national parks. Most protected land is still being patrolled, even though travel restrictions and lockdowns have reduced the number of visitors. This means that vulnerable species are still guarded and sensitive populations can flourish without the constant traffic along popular trails.
On a much smaller scale, Safer at Home orders have led many people to explore their local parks and trails. Short outdoor walks are often one of the only activities permitted under the orders, but many people have also found time with nature to be relaxing during such a stressful time. Even in Madison, when I walk to the shores of Lake Mendota, I find twice as many people enjoying the lakefront as I typically would on a cold April evening. Of course, there's no way to predict how behavior will change again as lockdowns are slowly lifted and businesses reopen, but I'm optimistic that many people will continue to enjoy a walk in the woods even when there are other options for entertainment.
Environmental Effects Influence Infectious Disease Risk
Unfortunately, while sitting in COVID-19-inspired separation, it's hard to look at the positive environmental effects of the pandemic without also considering how factors such as air pollution and deforestation drive increases in global pandemic risk.
COVID-19 is a respiratory illness, and survival rates have been demonstrated to closely relate to overall respiratory health. Data available as MedRxiv preprints indicate that air quality strongly correlates with higher morbidity and mortality from SARS-CoV-2. In fact, one study found that in China, Italy and the United States, the incidence of COVID-19 cases is more closely related to air quality than population density. Of course, these studies have not yet been peer-reviewed, but the data and preliminary conclusions indicate that air quality is likely a factor driving adverse outcomes from the virus.
Looking beyond the COVID-19 pandemic, our relationship with the environment is closely tied to our risk of emerging infectious disease. Biodiversity loss, for example, has been shown to increase pathogen transmission and human risk of certain diseases. Other factors include the rate of contact between humans and animals, which has propelled half of zoonotic disease outbreaks in the past 80 years. These shifts include changes in agricultural practices, wildlife hunting, and land use. The loss of a forest drives wild animals closer to human-dominated spaces, resulting in more frequent contact and increased risk of disease transmission.
All of this is taking place against the backdrop of climate change, which introduces its own potential risks. Rising temperatures and extreme weather events create new selection pressures for pathogen evolution. This is already evident in the emergence of a strain of the pathogenic fungus Candida auris with reduced susceptibility to temperature changes due to climate change. Extreme weather events also drive disasters such as flooding, which has been linked to cholera and malaria outbreaks. This disruption of ecosystems drives a migration of people from rural to urban areas, which in turn increases population density and ease of pathogen transmission.
Hope for the Future
Human effects on the environment have resulted in higher risk of infectious disease and exacerbated effects of outbreaks, but there is reason to be hopeful. The editors of Conservation Biology express optimism that people spending time in natural areas during the pandemic will become advocates for clean air and water regulations. As they write in a pre-proof letter, "Increasing visits to protected areas could be bad for sensitive species, but increasing support for the protected area system would be good news in the longer term." Their hope is that we collectively gain an appreciation for conservation efforts that continues long after we emerge from our isolation.
The clear skies in Los Angeles and Wuhan are also a reminder that we have the ability to reduce our impact – even if we aren't shutting down full states, reducing our emissions has direct consequences for large regions. We must work together to reduce the overall environmental impact of our activities, from incorporating sustainable lab practices to setting ambitious goals for electricity and water usage.
This Earth Day, let's enjoy the natural world around us and find ways to commit to its long-term protection. Our decisions can have lasting benefits for human health, as well as ensure a long, happy life for my two favorite eaglets .
---
To learn more about our commitment to sustainable growth and minimizing our environmental impact, read about how new Promega buildings are designed to minimize energy usage and carbon footprint.
---
For more information about how Promega is responding to the COVID-19 pandemic, check out these recent blogs:
---
The following two tabs change content below.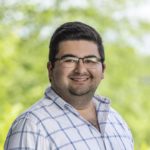 Jordan Villanueva studied writing and biology at Northwestern University before joining Promega in 2017. As a science writer, he's most interested in the human side of science - the stories and people behind the journal articles. Research interests include immunology and neuroscience, as well as the COVID-19 pandemic. When he isn't working, Jordan loves turning sourdough baking into a science. It's just a symbiotic culture of yeast and lactic acid bacteria, right?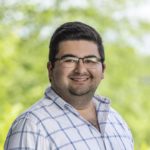 Latest posts by Jordan Villanueva (see all)