Summer is winding down at Promega Madison. Kids are heading back to school, sunset is creeping earlier, and a new cycle of academic research projects are ramping up. However, in the Promega garden, Master Gardener Mike Daugherty is still hard at work harvesting fresh produce that will soon become delicious meals in our cafeterias. As the seasons begin to change, I stopped by to learn what's happening on the farm. Here are a few highlights that Mike shared.
No Fence, No Problem
Home gardeners can agree on one thing: Pests are annoying. Many of us erect barriers and search the internet for new repellent ideas. Mike takes a different approach – he believes that in order to truly be a part of an ecosystem, he has to feed the wildlife.
"I definitely don't encourage them, but I do plan for the local animals to eat their share," he says.
There are no fences or pest repellents at the Promega garden. Mike doesn't want to disturb the natural habitat any more than is necessary. Instead, when he plans his plantings for the year, he adds a few extra.
"One is for the wildlife, one is for the weather, and one is to eat," he explains. In short, he plants enough of everything so that if one third is eaten by animals and one third is killed or weakened by extreme temperatures, precipitation or drought, he will still have enough left to fulfill his promises to the Promega Culinary team.
Healthy Soil? Mike Has It Covered
Soil health is Mike's top priority. When a growing season ends and a field is cleared, he plants cover crops to protect the land from erosion and help the soil regenerate. His cover crop arsenal includes oats, rye, peas and Sudan grass.
"I compare it to getting a cut on your skin," he says. "When you get a cut, your skin will start healing to mend the cut. When there's bare ground, the earth will try to cover it up."
With 2 acres of land to manage, Mike has plenty of room to experiment. One of his trials this year involved co-planting melons with both clover and sunflowers, two of his main cover crops. The sturdy sunflower stalks provide a trellis for the melons to climb, while the clover provides a soft bed to keep low fruit from rotting against the ground. Unfortunately, a surprise week of 100-degree days in late May killed many of his transplants in this plot. However, he considers the experiment successful and says he learned a lot for next year.
"The only time I consider something a failure is if I have bare ground," Mike says.
And, thankfully, there's still a large patch of healthy melons that will soon be arriving in the kitchens.
What's hot?
It's been a bountiful year for the Promega garden. Tomato season is wrapping up, amounting to around 2,500 pounds. The cafeterias have already used all 700 pounds of onions grown this year. He says this year was particularly good for beans – all six varieties of beans on the farm have exceeded expectations. (I enjoyed sampling the edible flower of the scarlet runner bean plant during my visit.)
As the seasons are changing, Mike turns his attention to the long rows of peppers that will soon be ready to harvest. In 2022, he planted fewer of the hottest peppers and instead focused more on mild and sweet peppers. Beginning next week, Mike will be harvesting 15 different pepper varieties that will flavor everything from the fiery salsas of the Kornberg Taqueria to the seasonal entrees in the BTC café.
---
What are you going to do with all those tomatoes and peppers?
Check out these recipes from the Promega Culinary team!
---
Hungry for more garden stories?
Check out our previous coverage of the Promega gardens:
Or visit our Corporate Responsibility Report to learn more about how Promega cares for the environment.
---
The following two tabs change content below.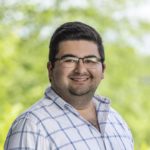 Jordan Villanueva studied writing and biology at Northwestern University before joining Promega in 2017. As a science writer, he's most interested in the human side of science - the stories and people behind the journal articles. Research interests include immunology and neuroscience, as well as the COVID-19 pandemic. When he isn't working, Jordan loves turning sourdough baking into a science. It's just a symbiotic culture of yeast and lactic acid bacteria, right?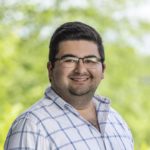 Latest posts by Jordan Villanueva (see all)