In May 2017, a surprising discovery was made in the woods of Bayfield County, Wisconsin, just about a 5-hour drive north of Promega headquarters. Jonathan Martin, Associate Professor of Forestry at Northland College, was exploring the forest with an ultraviolet (UV) light in search of fluorescent lichen or plant life. What he found instead was a bright pink glow coming from a most unexpected source—a flying squirrel.
Flying squirrels of the Glaucomys species live in forest habitats across North America and the highlands of Central America. They are nocturnal-crepuscular creatures, meaning they are most active at night and during twilight hours. During this time of day, UV wavelengths are more proportionately abundant than during daylight hours when visible wavelengths are prominent. Could this explain the phenomenon of a fluorescent small rodent?
The biological world is filled with UV fluorescent organisms. It was first observed in plants, but numerous species of invertebrates, fish, amphibians, and birds also display this phenomenon. However, the only other documented mammalian species with fluorescent skin and fur belong to the family Didelphidae, the opossums. Certainly, the discovery of hot pink flying squirrel was a curious one.
"Everyone was stumped and nobody could explain it," says Allison Kohler, the first author of the research published in the Journal of Mammology last month. Now a graduate student at Texas A&M University, Kohler was one of Martin's students finishing her undergraduate studies at the time of the discovery. "He asked me—being a senior with some extra time on my hands—if I'd like to look into this further, and I happily agreed."
Kohler set out to collect data on all the flying squirrel specimens at the Science Museum of Minnesota in St. Paul, MN. She looked at skin specimens of the three New World flying squirrel species: G. oregonensis, G. sabrinus, and G. volans. Her colleagues Paula Spaeth Anich (senior author on the paper), Jonathan Martin, and Erik Olson examined squirrel specimens located at the Field Museum of Natural History in Chicago, IL. The researchers also compared the Glaucomys specimens with data collected from three other diurnal species (those who are active only during daylight hours).
They found that almost all the Glaucomys specimens had hot pink UV fluorescence, while the diurnal species of squirrels did not fluoresce. The fluorescent underbellies of the squirrels came in a range of intensities amongst the three Glaucomys species; the sex, age, specimen date, or geographic origin didn't correlate with the different intensities.
While UV fluorescence in other species is linked with sexual selection, that might not be the case with flying squirrels. Kohler and her colleagues suggest a few hypotheses. Due to the nocturnal-crepuscular activity of the squirrels, fluorescence could play a role in communication—perhaps to act as a glowing beacon to fellow squirrels as they fly from tree to tree, or else to ward off nocturnal predators.
Currently, Kohler and her colleagues are continuing their research in different areas to further explain this phenomenon. "There are so many unanswered questions," she says. "We are all curious to see if we can figure out any more pieces to this fascinating puzzle."
Could these flying squirrels be the start to discovering other fluorescent mammals? Next time you take a hike through the forest, keep your eyes open (and your UV light on)—you never know what you might find!
Reference:
Kohler AM, et al. (2019) Ultraviolet fluorescence discovered in New World flying squirrels (Glaucomys). Journal of Mammology. gyy177. doi.org/10.1093/jmammal/gyy177
The following two tabs change content below.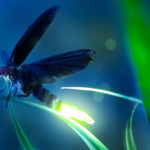 By day, Mariel is a Science Writer at Promega; by night, she side hustles her scicomm skills as a freelancer. She earned a B.A. in Biology and a B.Mus. in Piano Performance at Lawrence University, and a M.S. in Biological Sciences from Mississippi College. She is mom to a precocious toddler, a rambunctious corgi, and a cat-like bichon frise. In her spare time, she enjoys film & TV binges, music, gaming, and knitting.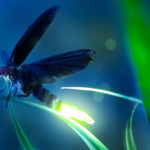 Latest posts by Mariel Mohns (see all)