Welcome back to Part 2 of our March Women in Science series! In Part 1 of this series, Breaking the Bias: Addressing the STEM Gender Gap, we took a closer look at gender stereotypes and male-dominated culture and their roles as key factors in perpetuating the gender gap in STEM. In this installment, we will be continuing the conversation about the STEM gender gap and focusing on the key issue of fewer female role models in STEM.
Part of my exploration of this topic included having conversations with a handful of my female colleagues at Promega about the about the challenges women in STEM face. These colleagues were (in no particular order): Monica Yue, Technical Services Scientist; Poonam Gunjal, Manager, Regional Sales; Becky Godat, Instrumentation Scientist; Leta Steffen, Supervisor, Scientific Applications; Kris Pearson, Director, Manufacturing & Custom Operations; Jacqui Mendez-Johnson, Quality Assurance Scientist; Johanna Lee, Content Lead, Marketing Services; and Jen Romanin, Sr. Director, IVD Operations and Global Support Services.
What Does A Scientist Look Like?
If someone asked you to draw a scientist, what would that person look like? Over the past 5 decades, this question has been asked of over 20,000 students across all grades from kindergarten through 12th, and evaluated in nearly 80 studies. A meta-analysis of these decades of studies revealed some interesting findings.
Between 1966 and 1977, of the 5,000 drawings collected from students during the original 11-year study, only 28 of those 5,000 drawings (less than 1% of the drawings) depicted a female scientist, with all 28 of them being drawn by girls.
According to the meta-analysis, that percentage increased over the decades, reaching up to an average of 28% of drawing depicting female scientists in the later studies. They also observed that girls were responsible for driving this shift, particularly younger girls. In the original study, only 1.2% of girls drew female scientists, but that increased to 33% in 1985, and again to 58% in 2016, while boys were observed to still draw male scientists nearly 9 out of 10 times.
Over time it was observed that in kindergarten, kids were drawing roughly the same number of male and female scientists, with girls tending to draw more female scientists and boys tending to draw more male scientists. However, by the time kids reach high school, both males and females combined were drawing 4 times as many male scientists as female ones. This highlights a considerable shift in how girls portray scientists as they get older, with 70% of 6-year-old girls drawing a woman scientist, but only 25% of 16-year-old girls doing the same.
Interestingly, this overall change aligns with the trends that are being observed on a larger scale. There has been a steady but slow increase of women in STEM careers. But we still see a decline in women's participation in STEM beginning in the late high school years extending into college and ultimately into STEM career paths. There are a number of factors that are involved in this perpetuating this gap, but the observation of that drastic shift from how girls portray scientists alone illustrates the importance and need for more women role models.
Seeing is Believing
Though studies have shown that having supportive teachers as well as parents can help encourage girls to pursue interests in STEM and though my featured colleagues and myself were fortunate enough to have encountered wonderful, supportive male teachers, mentors, supervisors or peers, this is not quite the same as having female role models. And while I'm grateful for the male support I have received, I also think it's important to acknowledge, as Professor Jasmeen Merzaban so eloquently put it, that there is still "unspoken privilege afforded to men at all levels of scientific research".
Having this privilege does not mean that men never have to work hard to succeed or never face their own challenges in STEM, but is rather an observation that men—from both an individual and a systemic, societal level—don't have to question if they belong in STEM, they inherently know that they do. Even if they do not want to pursue a STEM career, the question boils down to whether or not they are interested or passionate about STEM, not whether or not they belong.
Girls have considerably fewer role models to reinforce that STEM is also for them, with very limited examples of female scientists and engineers available to them in media, books and pop culture. There are many studies that have observed the benefits of female role models for everyone, not just women, with these beneficial effects best summarized by the concept of "Seeing is Believing". For women, research has highlighted three core benefits of having role models: role models represent and expand upon what is possible for women, they demonstrate the behaviors and mindsets needed to achieve what they now know is possible, and they inspire women to aim higher and be more ambitious than they typically would otherwise.
Seeing people who look like you out there doing the things you want to do makes a difference in believing that it is possible for you too. Exposing girls, especially young women, to visible role models that are working, innovating, teaching and making discoveries in STEM is vital to helping maintain their interest and perseverance in STEM and increases their likelihood of becoming future innovators themselves. This helps them internalize that there is no reason why a women can't do anything a man can, and helps them grow up naturally assuming that there is no limit to their abilities.
The "Seeing is Believing" concept of female role models also influences the way men and boys view women in STEM. We could cite a thousand studies demonstrating the value of female role models but, like women, it is hard for men to imagine women excelling in STEM, especially in leadership positions, if they don't really see any examples. It sounds simple (because it is), but when men and boys can see women doing something, they then know what things are possible for women. Boys who are exposed to female role models growing up will be more likely to see girls as their equals and treat them with the same respect they automatically extend to other boys, which can help make the world of STEM feel like less of a "males only" space in the future.
It's Easier to Be Her, If You Can See Her
In the conversations with my colleagues, a common thread that emerged as a challenge for them in their STEM trajectory, was not knowing what all is out there for career opportunities and possibilities with a STEM degree. I can also personally attest to experiencing this challenge—while earning my bachelor's degree in microbiology, I would have never guessed science writing was even a "thing", let alone a whole career path.
There is also research that shows women place high value and regard on having a job that directly helps people, which can explain why we often see high percentages of women in science fields like healthcare, but lower percentages in the other STEM fields. Without visible role models in other STEM careers illustrating how their work can help others, many of these careers and the ways they very much can (and do!) help people, remain unknown to young women.
After having the opportunity to interview so many of my interesting and talented colleagues, I have been reflecting on what a significant impact those conversations have had on me since. I went into these conversations not knowing most of these women well (if at all) or what to expect, but left the conversations with a deep admiration for every single one of them, and very much look up to them as role models.
In considering the effect that these conversations had on me as a young(-ish) woman who studied and is already established in a science career, I have personally realized the value of having visible role models and the importance of seeing women in these roles. So I wanted to share more about their roles and what they love about it, in the hopes of bringing more visibility to what career opportunities are out there for women interested in STEM and show that there are many ways to participate in science, all of which help people.
Monica, Technical Services Scientist
What She Does: Monica's work involves providing support on scientific topics to the customers that use our products, as well as internal company support for a variety of groups, including our client reps, R&D scientists, and product managers. This support can involve anything from simply providing product information, to helping someone select a product that will work best for their lab or helping them troubleshoot any problems they may have. Within the Technical Services team, Monica specializes in the Maxwell® Instruments and Maxprep™ Liquid Handlers and does web demos about how to use the Maxprep™ instruments. She has also been working with the Scientific Training team to develop internal training on these instruments for the rest of the company.
What She Loves: She really enjoys that her role offers her the opportunity to support others by helping them find solutions for their struggles in the lab, especially customers. She also likes getting to do more collaboration work with the Scientific Training team. The work is really interesting to her, and she likes that she is able to apply some of the knowledge and experience she has accrued in her Technical Services role on a wider scale that can benefit the whole company.
Poonam, Manager, Regional Sales
What She Does: Poonam's role entails being an emotionally intelligent coach and mentor for our sales professionals, to help them develop key client relationships and meet the company's sales objectives.
What She Loves: She really enjoys being able to mentor and guide the people on her team in their career development and get them to where they want to be in life. Poonam has been at Promega 16 years, the first 12 of which she spent as a client rep based out of New York City. Many of the things she loves about her job are integral pieces ingrained in the Promega culture. She likes that people at Promega genuinely care about you, your career development and your work-life balance, a stark contrast from the corporate culture of many large companies where employees are merely a number. She likes that at Promega, we can adapt to create new roles and positions for employees as opportunities present themselves—there is no real set career ladder to climb here, you can forge your own path. And like many of us, she loves that the emphasis Promega places on Emotional Social Intelligence (ESI) and the many opportunities that are provided to employees to work on becoming more emotionally intelligent people.
Becky, R&D Instrumentation Scientist
What She Does: Becky is currently working in R&D as an instrumentation scientist, which essentially involves taking the biology and chemistry we develop into individual kits for customers and making them high throughput by moving them to robotic platforms (our Maxprep™ Liquid Handlers), which she is learning how to program and troubleshoot.
What She Loves: This role is a relatively recent and big change from her previous position as an R&D scientist in the protein nucleic acid group, where she was very experienced, comfortable, and in a place in her work where she always understood what she needed to do and how to get it done. In her new role, she loves that she has the opportunity at this point in her career to expand her knowledge and skillset by taking on something entirely different. She also enjoys how truly fascinating this work is. In working on our instruments, she has gained a deeper sense of curiosity and appreciation for the technological complexity of what happens behind the scenes—the coding, the design, the features—in the making of many of the machines we use every day, like refrigerators and iPhones.
Leta, Supervisor, Scientific Applications
What She Does: Leta is both a supervisor and scientist in the Scientific Applications group. Her team bridges the gap between R&D creating a product and a customer being able to use that product in their lab. When R&D designs a product, it's usually with a fairly narrow focus, but our customers do all kinds of creative and innovative things that may not be directly what the products were designed for. The Scientific Applications team can help our customers figure out what solutions they can apply to their experiments in their own labs.
What She Loves: When she was in graduate school, Leta had the opportunity to do a lot of really cool science and learn about a lot of interesting techniques, but she felt like her impact on the world was pretty narrow and only focused on the biology she was working on. In her role at Promega, she loves that she gets the opportunity to impact a lot of scientists and help improve the quality of science overall in a way that she didn't really have the opportunity to as an individual researcher.
Kris, Director, Manufacturing & Custom Operations
What She Does: Kris' role involves overseeing the day-to-day custom manufacturing operations, making sure that everything runs smoothly. She provides managerial and technical leadership, builds and optimizes cross-functional teams, and facilitates decision-making to ensure that the business objectives are being met. Her job also involves ensuring that our manufacturing standards for quality, safety and product cost and throughput are being maintained, and she is constantly looking for ways to improve our operational processes and performance.
What She Loves: Kris has worked at Promega for over 28 years. She started out when she was in high school as dish washer, and over time she has worked her way up through production and manufacturing operations to her current role. She loves that in all the years she has been at Promega, every day and every role has brought different challenges and learning opportunities for her, so her work is never boring.
Jacqui, Product Quality Assurance Scientist
What She Does: Jacqui is currently a product quality assurance (PQA) scientist. As a QA reviewer, her role entails being part of the life of a product from the very beginning, starting in its development stages. She participates in all of the meetings while the product is being developed and the team is determining specifications, customer qualifications and quality requirements. Once the product enters production, it is her job to confirm every aspect of the product, from the product performance claims to the technical literature, are accurate and follow the guidelines of our quality system. This helps ensure that we are producing consistent, reliable and quality products for our customers.
What She Loves: Prior to her last 3 years or so as a PQA scientist, Jacqui was in R&D for about 25 years, and worked on developing a lot of products. Now that she is retired from the lab, she loves that her current role allows her to still be involved in the science and apply the years of experience and expertise she gained in R&D. Bringing a new product to life and eventually to market requires the effort of a lot of cross-functional teams, involving the work of people in manufacturing, marketing, R&D and more, and Jacqui loves having the opportunity to work with so many different people in the company and build relationships with them.
Johanna, Content Lead, Marketing Services
What She Does: Johanna's role encompasses a lot of things, from writing a variety of content that supports marketing our products, such as blogs, technical articles, brochures, and social media posts. The other main part of her role is content strategy and guiding our business units to help them develop good marketing and communications. She helps them find the best way to share our message and how our products can solve customer needs, so that we can reach the right customers with the right content at the right time.
What She Loves: Some people may view Marketing as a way of trying to trick people into buying stuff they don't need, but Johanna views it as a way of helping people. At Promega, we are at the forefront of a lot of cool technology and it's very exciting for her to be one of the first people to hear about new products and how they will contribute to solving real world problems. Johanna enjoys being able to actively play a role in spreading the word about products that positively impact scientists—products that can save them time, help them get better data, or perform their work more efficiently. She loves that this work gives her a sense of purpose that really motivates her and allows her contribute to the scientific community in a way that she doesn't have to sit in the lab to accomplish.
Jen, Sr Director, IVD Operations & Global Support Services
What She Does: Jen's role essentially involves wearing three different hats. Her first hat is leading the IVD Operations teams that work in our Feynman Center, which include an operations team that does manufacturing, product finishing and validation, as well as a team of project managers. Her second hat is leading the global service and support part of our organization, which includes our Madison Technical Services team, Field Application Specialists, Field Support Scientists, Scientific Applications and Scientific Training. And her third hat involves her work on the global planning team, through which she works on all the building projects globally in all different kinds of roles.
What She Loves: Jen loves to work with people—getting to know them, understanding what they do, and where their expertise lies. Like many people at Promega, she also really likes to learn new things. The three areas she works in are constantly changing and growing, so she loves that there are always learning opportunities for her, from learning about the structural and engineering aspects of a building to learning about new packaging equipment on the IVD product finishing side to organizational things, like evaluating ways to continue to keep Promega as a desirable workplace for our employees.
So How Can We Address The Lack of Female Role Models?
Here are a few small ways we can start to tackle the issue of fewer female role models in STEM:
Look for and emphasize strong, visible female role models in science, math, engineering and technology fields. Expose your kids, not just girls, to these female role models. Help your kids them feel comfortable talking about all that women can do and have done in these fields, and challenge them to push back on negative gender stereotypes. This work influences and helps everybody reconsider negative stereotypes as they come up later in life
Seek out events that offer opportunities to bring young women out to talk to female scientists, staff and faculty. This is a simple, but good starting place, for girls to see firsthand what type of research and work these women do and helps expand their view of what career opportunities can be possible for them.
Increase visibility. It is important that organizations work to create gender balances in the imagery on their website, social media campaigns, etc. Remember: seeing is believing!
---
Stay tuned for the final part of this series, out next week!
---
References:
The following two tabs change content below.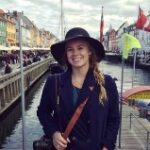 Natalie is a Science Writer at Promega. She earned her B.S. in Microbiology from the University of Wisconsin-Madison, and her Associate's Degree in Science from Cottey College. In her spare time, she can be found playing volleyball, making music, chipping away at her never-ending stack of craft projects, and volunteering with animals.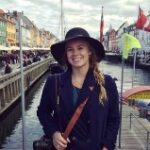 Latest posts by Natalie Larsen (see all)