This past weekend was the 9th Annual Wisconsin Science Festival, and we at Promega were excited to join in the celebration of science throughout the state. We participated in the Discovery Expo on Thursday and Friday, where dozens of demonstrations and exhibits were scattered throughout the Wisconsin Institute for Discovery building. Thousands of children on field trips filled the halls, eager to poke and prod at strange and exciting new things.
At our table, we talked about the science of bioluminescence. With 3D-printed firefly luciferase models in hand, we showed the glow of recombinant luciferase to the incoming children and explained to them how scientists could use bioluminescence like a tiny "flashlight" to look inside of cells and watch what's happening. Our learners received a nice little reward for their attentiveness in the form of glow-in-the-dark firefly stickers.
We also had quite a few people (~1000!) interested in our Snapchat filter, created especially for the Fest. The filter, in combination with our Biotech Bucky statue, was a real hit.
Of course, we weren't the only rodeo in town; fellow science writer Mariel Mohns and I took a walkabout around the floor to see what other cool things were happening. One of the first things we spotted was a sign that said, "Challenge Your Brain!" We couldn't pass up a challenge, so we ended up staring into boxes with mirrors in them, trying to trace shapes by only looking in the mirror at our hands. Using every ounce of effort I could summon, I managed a passable heart. The star of the person who came before me was a little more wibbly!
Speaking of brains, did you know that they're kind of heavy?
We watched a woman paint a mural depicting diversity among scientists, played with a Lite Brite, drew robots with a robot, screenprinted some sweet bookmarks, and played a little guessing game about animals used for research.
We even learned a little bit about texting while walking—while most people slow their pace significantly when texting and walking, Mariel barely slowed down at all! She must practice a lot.
Later that night, we participated in Science on the Square. Here, things got a little dicey. We had planned to have an exhibit of bioluminescent plankton called dinoflagellates, but it was too bright where we were on the Capitol Square to see the glow! Luckily, we still had all our knowledge of bioluminescence (and a hefty supply of stickers). Also, we had our trusty luciferase models, so that we could show people how luciferin binds to luciferase to create light. Lots of people came by, interested to know what this biotech company that lives in their backyard actually does, and lots of people left with a deeper understanding of bioluminescence and how it is used as a tool for science.
We learned a lot at the Science Festival, and had the great opportunity to teach kids and grown-ups alike about the science of bioluminescence. It's so important (and fun) to connect with and give back to our community. We can't wait until next year!
Related Posts
The following two tabs change content below.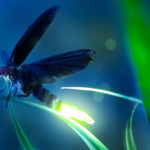 Julia is a Science Writer at Promega. She earned a B.S. in biology and a B.A. in chemistry from University of North Carolina Wilmington, and a PhD from University of Wisconsin-Madison. Her hobbies include reading fantasy novels, playing Magic: The Gathering, ultimate frisbee, Netflix, and long walks to the fridge.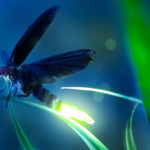 Latest posts by Julia Nepper (see all)