Ian Nicastro says he didn't set out to start a green revolution.
"I'm not hardcore 'Save the trees,'" Ian says. "I'm probably a little different from the people you traditionally see as promoting the sustainability thing. Obviously, I do want to help the environment, but for me it was like, 'this is logical, and we should be doing this.'"
Ian is the lab manager of the Pasquinelli Lab, a C. elegans lab at the University of California–San Diego that studies miRNA and its role in processes like aging. He's been in the lab for about six and a half years, splitting his time between research and lab management duties. According to Allison Paradise, the CEO of My Green Lab, Ian has put out some "outstanding" efforts to implement sustainable practices in the lab.
Under Ian's guidance, the Pasquinelli Lab became one of the first Green Lab Certified labs at UCSD. This program is based on the national Green Lab Certification standards developed by My Green Lab, an organization focused on best practices for lab sustainability, including energy conservation and waste reduction. The Office of Sustainability at UCSD collaborates with My Green Lab to support and recognize UCSD labs that are working to implement sustainable practices. Ian says that he has used advice from My Green Lab to guide purchasing decisions and internal practices. The biggest example, he says, was a major instrument purchase.
"A –80° [freezer] uses a lot of power," Ian says. "We wanted to replace one of ours, and we bought a new one with My Green Lab in mind. It's a lot bigger than the old unit and is a better use of floor space. It was supposed to save a lot of energy, and it looks like it is." (Learn more about energy efficient cold storage here.)
Ian first got involved with My Green Lab when UCSD hired the organization to consult on lab sustainability practices. At first, very few labs were willing to join the program, but Ian saw a ripe opportunity. He volunteered to join the program and help recruit other labs in exchange for early access to eco-friendly facilities upgrades.
"People were worried that the 'green labs' thing would be another thing that you'd be policed on, and that it was just something else they had to worry about," Ian says. "I like to bargain. I was like, 'I'll do this and I will help you get new labs involved if you change out the lights to LEDs in my lab first. Make us an example.' They agreed to that, and we absolutely love our LED lights."
As part of the certification process, every member of the Pasquinelli Lab had to take an extensive survey about every aspect of their lab activities. Afterwards, the My Green Lab consultants reviewed the sustainable practices already in place and provided recommendations for easy ways to improve. The recommendations included energy meters or timers on large appliances, fixing leaky faucets and turning off any equipment not actively in use.
Ian says that one of the most surprising topics that came up was an "annual lab cleaning day." He never thought about cleanliness as a 'green' practice, but he realized that a clean lab has less risk of contamination, which translates to reduced plate and reagent waste. He also uses the cleaning day to inventory all of the forgotten and neglected bottles of reagents in order to minimize unnecessary ordering.
According to Ian, compared to instruments, chemical purchases are more difficult to evaluate for sustainability, due to a lack of information about manufacturing procedures. "It's shipping-related stuff that we have more control over. Paying attention to how things are shipped, and if there's unnecessary packaging material. One thing we've really been pushing is packing film. Most plastic films cannot go in the recycling bin. But there's a company that collects those plastic films and make them into material that looks like fake wood for decks, so we got a bin for our building and the custodial services take it away and deliver it to that company. That made our lab happy because there was all this plastic film and packaging we had been throwing away."
Overall, Ian says it hasn't been a painful or difficult experience to make his lab more sustainable. In fact, he's a strong advocate for every lab to evaluate its practices and find ways to improve.
"It's 2019— at this point we have the ability to find out if these companies are following good business practices for sustainability, and we should be encouraging that," he says. "Why wouldn't we want reduced pollution? Why wouldn't we want nature preserved? I guess for me, it just seemed logical."
Click here to learn more about My Green Lab and how to make your lab more sustainable.
The following two tabs change content below.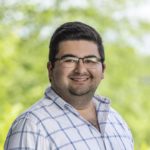 Jordan Villanueva studied writing and biology at Northwestern University before joining Promega in 2017. As a science writer, he's most interested in the human side of science - the stories and people behind the journal articles. Research interests include immunology and neuroscience, as well as the COVID-19 pandemic. When he isn't working, Jordan loves turning sourdough baking into a science. It's just a symbiotic culture of yeast and lactic acid bacteria, right?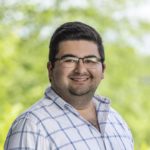 Latest posts by Jordan Villanueva (see all)