When Dave Romanin came to work for Promega he was fresh out of school with a degree in bacteriology. His plan was to work for a year in manufacturing and then go back to graduate school. But in the end, he didn't go. There was no incentive, he explains, for him to spend five years in graduate school making little to no money. He didn't want to write grants or run his own lab, and he enjoyed what he was doing.
Twenty‐four years later, Dave is still here. He's moved around a bit, first manufacturing, then dispensing, kit packaging and then on to software development with Lou Mezei. Their first software project was a quality control software to capture data from the scales weighing bottles to ensure they were filled correctly. His experience in manufacturing helped him understand what the program needed to do and helped him define the specifications for the software for the programmer. He has been designing software for the last 10 years, and has worked on projects for everyone from marketing to manufacturing.
He describes his job, in part, as a game of cat and mouse. Dave spends hours testing the software, trying to find the weaknesses the developer didn't anticipate—in essence, trying to break it. When he finds something that throws the software off or causes it to crash, he and the programmer decide on the next steps. Sometimes it is an easy fix, and sometimes they have to decide if it is worth what it would take to fix it. Would a user be likely to ever do what Dave did?
An important, but tedious, part of all that testing is the documentation that goes with it. Dave admits that this is his least favorite part of the job, and he often found himself distracted while working on the documentation. So when Promega offered a ProMindful series that offered an introduction to mindfulness and meditation techniques that would help you deal with distraction by learning to be more in the moment, Dave signed up.
Mindfulness is the concept of being present in the moment and not distracted by what might come next. Dave gave the example of driving to work and realizing that you can't recall anything about the drive because your mind was so busy thinking about the upcoming day.
Through the ProMindful program, he learned a form of meditation that focused on breathing techniques and, as Dave describes it, not letting the mind "wander".  By practicing being in the moment and not thinking about what might come next, your mind learns to focus and shut out the distracting thoughts.
And Dave says he saw results. After participating in the program he found he could focus for longer periods of time on the more tedious parts of his job (like documenting the software testing). He wasn't as easily distracted when working at tasks that weren't as interesting to him.
As an added benefit, he says it also helped him when dealing with his teenage daughters. He found himself relating to them differently. By being less distracted by other things he could react to what was happening without letting other emotions from the day color his response.
… I find I am less frustrated with their actions and what they are doing because I am more adept at trying to understand what they are thinking at that point in time, rather than my emotions getting hijacked somewhere else because I'm not there either.
Dave says he likes the program that Promega offered. Although, he admits he has drifted away from the practice. He says he was very consistent for the first three months or so, but when his life got more hectic, meditation was the first thing to go, even though he admits it would probably help him manage the feeling of being pulled in several directions. He says he needs to find a way to fit it back into his schedule. It is just a question of finding the time to be in the moment once again.
The following two tabs change content below.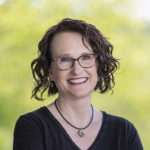 Kelly earned her B.S. in Genetics from
Iowa State University
in Ames, IA. Prior to coming to Promega, she worked for biotech companies in San Diego and Madison. Kelly lives just outside Madison with her husband, son and daughter. Kelly collects hobbies including jewelry artistry, reading, writing and knitting. A black belt, she enjoys practicing karate with her daughter as well as hiking, biking and camping.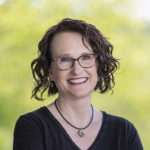 Latest posts by Kelly Grooms (see all)