In times of rapid growth, we look to the future with excitement while also assuring that our expansion is sustainable. The Promega Global Facilities Planning Team emphasizes environmental stewardship and long-term planning. Each building is designed to meet ambitious sustainability goals, and innovations incorporated into each project inform the next. In 2019, we finished construction on two new buildings in Europe and made progress on two important facilities at our headquarters in Wisconsin.
UK Branch Office Opens in Southampton, UK
In September, the employees of the Promega UK Branch closed the door on the offices that had housed them for 25 years and moved a quarter mile (400m) down the road into a new 18,000 square foot (1,700m2) building featuring wet and dry training labs, a product storage facility, office spaces and even a small gym for use by staff.
"Promega UK has been a fundamental part of Southampton Science Park for over 25 years," says Sean Donnelly, Operations Director of Promega UK. "When we were planning this development, we were keen to stay in the Park."
During the five years of planning that went into the new building, the team focused on conserving energy and water while reducing carbon emissions. They included features such as ground source heating, which is cleaner and more efficient than gas- or oil-powered heating. The resulting facility is built to exceed BREEAM 'Excellent' standards, an assessment used in the UK to certify the sustainability of buildings.
"The facility has been designed to maximize energy efficiency, and data on energy consumption will be captured and analyzed to ensure that we are meeting energy targets," says Corey Meek, Corporate Responsibility Program Lead. "Submeters in the new facility will allow us better visibility into energy consumption by space and equipment so we can maintain efficiencies for the life of the facility. I hope this provides inspiration and insight on sustainability design that can be applied to future projects at Promega."
Promega GmbH Relocates to Walldorf, Germany
In November, Promega GmbH relocated from Mannheim to Walldorf, Germany. The new facility, the largest outside of Madison, brought together all Promega teams previously located in Mannheim, including the largest non-US branch office, the European Distribution Center (EuroHub), the European Instrument Center and Terso Europe.
The facility features geothermal heating, solar panels mounted on the roof and a small onsite lake for grey water usage. Most of the office spaces are lit by natural lighting, and there are plenty of green spaces inside to improve air quality. Care went into preserving the environment around the building and lumber from trees that needed to be removed during construction is now being used to build a bike shed, which the team hopes will encourage more employees to bike to work.
"The new building fulfills the newest energy regulations and is fully automated to minimize energy consumption," says Anette Leue, Digital Marketing Manager of Promega GmbH. "The old building had no sustainable features, so with the new building we added as much as possible."
At this point, the building is operational but not yet complete. Many of the green spaces are still being developed, and several spaces are awaiting finishing touches. In the meantime, the team is already enjoying their new space.
"We take pride in the details and quality," says Anette, "and in preserving nature and making sure our building is a place where people like to be."
Employees Tour R&D Building Construction Site in Madison, WI
In late December, Promega Madison employees were invited to tour the active construction site of the new Promega Research & Development building. When completed, the building will house all R&D groups, as well as Scientific Applications & Training and Integrated Systems & Engineering. At approximately 287,000 square feet (26,600m2) this building will house more than double the amount of lab space Promega currently occupies.
At this point in the construction, the structure of the building is mostly complete, and many of the smaller details are beginning to appear. On the tour, members of the planning committee pointed out the distinctive cross-laminated timber beams also present in the Feynman Manufacturing Center on the Madison campus.
The new R&D building is projected to use 60% less energy per square foot than the existing R&D Center. Most of the heat for the building will come from geothermal wells, which will be dispersed by radiant floor heating. Additionally, the whole perimeter of the building will be wrapped in a double-walled exterior. This consists of an interior concrete wall and an exterior brick wall, separated by three feet of air space. The result is similar to a Thermos of coffee – the space between the two walls creates a buffer to absorb some of the heat that would otherwise be gained or lost to the environment. The glass panes in both walls can also be opened when weather permits, which will provide airflow and further alleviate the energy requirements of temperature control.
Inside, the space has been designed to foster creative lab and desk spaces while maximizing efficiency. Wet labs are surrounded by dedicated instrument rooms, and all of the lab benches are modular. The cloverleaf shape of the building gives each research group its own area with plenty of space to work and grow. With a new cafeteria serving locally grown food, a gymnasium and a sound therapy studio, the building balances efficient workspaces with plenty of areas for employees to recharge.
(Speaking of recharging, check out Sustainability Makeover: Parking Ramp Edition)
Progress Report on Component Manufacturing Center in Madison, WI
When the Component Manufacturing Center opens in 2021, it will house newly developed product manufacturing lines in a 158,000 square foot (14,600m2) facility only a few miles from the Promega global headquarters. This facility will complement existing manufacturing capacities in Madison and California by supplying small molecule components for use in other manufacturing processes.
The groundbreaking ceremony took place on Thursday, June 6, 2019. According to the progress report delivered in mid-January 2020 by Jennifer Romanin, a member of the Global Planning Team, the structural steel has been completed and concrete floor pours will begin this month. Wooden columns and beams for the office area will be installed later this spring, and process equipment procurement is underway. As of January 2020, the project is on track to be completed in the second quarter of 2021.
---
Did you know that you can take a virtual tour of the Promega Madison campus? Check out our interactive map here.
For more information on our commitment to sustainable growth, visit our Corporate Responsibility website.
Related Posts
The following two tabs change content below.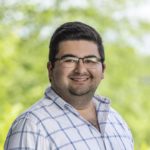 Jordan Villanueva studied writing and biology at Northwestern University before joining Promega in 2017. As a science writer, he's most interested in the human side of science - the stories and people behind the journal articles. Research interests include immunology and neuroscience, as well as the COVID-19 pandemic. When he isn't working, Jordan loves turning sourdough baking into a science. It's just a symbiotic culture of yeast and lactic acid bacteria, right?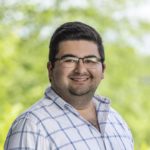 Latest posts by Jordan Villanueva (see all)