In 2020, Promega North America launched the Diversification Of Our Research Scientists (DOORS) Scholarship to recognize and empower students from underrepresented backgrounds. Ten students received $5,000 towards tuition and other costs associated with their education, as well as connections with mentors from Promega. Here are two of their stories.
Elizabeth Agbedun, Mount Holyoke College
"It all started back home in Nigeria when I heard, without any doubt in my teacher's face, that I couldn't pursue science because I was a woman."
Elizabeth Agbedun is a rising senior at Mount Holyoke College studying neuroscience. She spent the past year digitally mapping the complex trachea of Drosophila melanogaster, after COVID-19 restrictions prevented her from entering the lab.
As a child in Nigeria, Elizabeth was amazed by the wonders she could see through the door of the high school science classroom. However, the education system requires children to specialize their education, and women traditionally focused on humanities or arts. She gave up on her dream of studying science for a few years, but her passion was reignited shortly after she moved to the United States. While watching an episode of Bill Nye the Science Guy, Elizabeth was amazed to see Raven Symone dressed in a lab coat, teaching scientific concepts to kids.
"I think I was the only one in that room who was fascinated by the fact that there was not just a girl, but a black girl on TV as a scientist. And I realized that science was what I really wanted to do. There was no turning back," she says.
Representation on television is important, but data on the demographics of STEM degrees in the United States shows that women and racial minorities are still underrepresented at almost every education level. According to data from the Integrated Postsecondary Education Data System (IPEDS), Black individuals received only 7.4% of the biology degrees awarded in 2019, despite making up 13.4% of the population. Women received a slightly higher share of Bachelor's degrees than men, but white women earned the vast majority of those, and women of color earned a much smaller share.
"My school, although it's very liberal, is still a predominantly white institution," Elizabeth says. "I thought I was ready to battle the system and do whatever I needed to do to succeed. I know I'm brilliant, yet I've spent most of my journey and most of my time in science trying to prove myself to people who never see that side of me."
For students like Elizabeth, microaggressions and unconscious bias can erode confidence and shake the passion for science she's been nurturing for years. She recalls leading a lab group presentation when a white peer spoke over her and repeated her exact words. When Elizabeth approached the student later, the student said she was concerned the audience couldn't understand Elizabeth's accent.
"I barely have an accent anymore," Elizabeth says. "I remember walking back to my dorm and just wanting to scream."
Following that incident, Elizabeth reached out to the instructor and eventually helped create presentation guidelines to help every student shine. She started working as a lab TA, and she believes that every time she says "I'm right here!" to someone looking for the person in charge, she's changing the narrative of what a science leader looks like. She compared experiences with some friends and eventually started a group called STEMPOC that shares resources and hosts events to support people of color in STEM programs.
In addition to her friends and classmates, Elizabeth has also valued the support she's received from Liz Smith, one of her mentors in the DOORS program. Liz is a Client Support Specialist who has a PhD in Cellular, Molecular and Developmental Biology.
"Liz would say, 'This is my what experience has been as a black woman,' and hearing her talk about her personal experiences made me open up more," Elizabeth says. "I could relate to Liz's stories, and it helped me grow my confidence to speak up. There was a time when I had trouble communicating with my PI, because I wanted to work in the lab but he wanted me to keep working on the trachea project online. I was feeling overwhelmed, but my lunches with Liz helped me break down what I needed to say and do."
Elizabeth plans to finish her neuroscience degree at Mount Holyoke but hasn't decided on her next steps yet. She hopes to become a neurosurgeon, partly inspired by her grandmother's experience with neurological health problems.
"For years, they called her 'crazy' because she was always complaining of imaginary pain in her head," Elizabeth says. "By the time we found out, it was too late. She was labeled 'crazy' because of a medical issue in her brain. As a woman, one of my biggest fears is a lack of knowledge. I don't want to end up like that."
As she enters her senior year and starts to look ahead, Elizabeth says her long-term goals are less about a specific field or career and more about the ways she can make a difference in science for future generations. Elizabeth has a younger sister who she says is already interested in science, and she hopes her sister's path is easier than her own.
"I can't fail," Elizabeth says. "I need to be a leader. My goal is to gain the power and confidence to make a change so that I can share it with people going through similar experiences to what I have gone through," Elizabeth says. "I need to have the power to make it so that anyone like me or my sister can enjoy STEM without having to worry about the suffering that black women often go through."
"I've taken my experiences to shape my goals and my passions. I'm at peace with everything I've been through, and I view myself as a pacemaker. I don't care what label I'm going to get – I'm going to be bold, and I'm going to be fearless."
Emanuel Burgos, University of Wisconsin – Madison
Emanuel Burgos grew up in Puerto Rico and moved to the continental United States for the first time when he began his freshman year at the University of Wisconsin – Madison.
"I felt totally out of place," Emanuel says. "Puerto Rico is very diverse, but everyone is considered to be Puerto Rican. Coming to Madison, I saw that my peers were predominantly white, and I felt totally intimidated. Not because I didn't belong here, but because it was a community that I wasn't fully integrated with."
Emanuel started classes in August 2017. Less than a month later, Hurricane Maria swept across Puerto Rico, killing over 3,000 people and causing over $91B in damage. As a freshman in a new city, Emanuel had no way to communicate with his family on the island or even know if they were okay. In the days following the hurricane, Emanuel found a community of Puerto Ricans in Madison who were similarly worried about family members. They decided to all get together, and Emanuel was surprised that other non-Puerto Rican people from his lab building joined in. They formed a coalition called Madison for Puerto Rico and spent the next few months collecting supplies to package and send to the island.
"That, to me, is what it means to be a true scientist," Emanuel says. "I thought these people were just here to do science – they have their own logic, they only care about their research, but instead everyone got together to help out. We care for family, we care for community, and we take care of each other."
The connections that Emanuel formed while gathering supplies to send to Puerto Rico helped him settle into the Madison community, but the intimidation he felt didn't immediately go away. His peers talked about taking multiple AP classes or earning advance credits, things he had no way to access in Puerto Rico. He found himself starting in the lowest chemistry and calculus classes, believing he was behind and needed to catch up. In the lab, he pushed himself beyond what was healthy.
"I always thought that I had to work ahead of everybody else. Because I was a minority, I had to work twice as hard as anybody else. And for my freshman year, I almost burned myself out. That's when I realized, if I'm working this hard, there's not going to be much left of me later on."
Emanuel settled into a lab where he felt supported both as a scientist and a Hispanic student. He specialized his research into bioinformatics and computational tools. The lab works with high-throughput sequencing, and last year he surprised his PI with a new python-based tool for genome assembly that he had built independently. Emanuel's tool was such an improvement over the old version that the lab fully switched over to using Emanuel's program.
"It's a small lab, but they're all incredible," he says. "They're all so supportive of me. The only fear I have with them is fear of missing out on a super cool project. I'll tell my PA, 'I don't want to be taking classes! I'm ready to do research!' But he says, 'No, classes come first.'"
As a Puerto Rican scientist, Emanuel believes that his heritage is a big influence on his thinking as a scientist. In particular, he says a strong emphasis on community is something that originally drove him to science. He spent his high school years building programs to help out around the school, such as teaching tools or record-keeping systems. He gravitated towards projects and applications that produced tangible benefits for everyday people. Today, bioinformatics gives him the opportunity to support the work of other scientists.
"I don't just approach problems with curiosity," he says. "I'm doing this for the betterment of everybody else. Science is sort of a community itself, and now that I have my degree, I'm pursuing bigger questions that can have some impact in the end. That's why my interest is mainly in bioinformatics – I've always been interested in building software that can help other scientists, especially people who aren't experts with computers."
This fall, Emanuel will be starting a PhD in computational biology at MIT. Eventually, he would like to start a company providing bioinformatics services to labs who need computational support. He says the DOORS program gave him the opportunity to learn more about scientific careers outside of academia and what it takes to start a business.
"Minority students have a lot of support in getting a bachelor's degree, and we have a lot of support to get into graduate school, but what about a student who wants to go work in industry? How can we help those students out and have more representation of students like me in industry?"
The question Emanuel asks is one of the key reasons why the DOORS scholarship was launched. According to data collected by the Biotechnology Innovation Organization, employees at surveyed companies were 65% white, while executives were 78% white. Black individuals made up 7% of employees and only 3% of executives. Asian and Hispanic/Latino categories were similarly low, and indigenous groups including Pacific Islanders were far below 1% of employees and showed no representation among executives.
These statistics are a stark contrast to the racial demographics of the United States, where approximately 60% of the population is white. One way the DOORS program aims to shift these demographics is by amplifying the voices of people of color currently working in the biotech industry. For Emanuel, his connection with Corporate Sales Manager Laura Perez-Brenner provided valuable insights from a fellow Puerto Rican who has gone through graduate school and works in industry. Above all, it gave him space to talk about the role his heritage plays in his career as a scientist.
"My roots come from a small island in the Caribbean, where I didn't have many resources to work with," Emanuel says. "That allowed me to appreciate science not just for my own passion for understanding the world, but in helping out my community as a whole. I don't have to leave behind who I am in order to pursue this scientific career. I can bring that with me. And I should bring that with me, because it's valuable for my perspective and it makes me a more complete human being."
---
Learn more about the 2020 DOORS Scholarship:
---
Read more about our long-term vision and planning for continued contribution to science around the globe at our Corporate Responsibility Website.
---
The following two tabs change content below.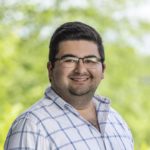 Jordan Villanueva studied writing and biology at Northwestern University before joining Promega in 2017. As a science writer, he's most interested in the human side of science - the stories and people behind the journal articles. Research interests include immunology and neuroscience, as well as the COVID-19 pandemic. When he isn't working, Jordan loves turning sourdough baking into a science. It's just a symbiotic culture of yeast and lactic acid bacteria, right?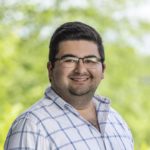 Latest posts by Jordan Villanueva (see all)