World Art Day embraces art as a means for nurturing creativity and innovation, gaining greater understanding of cultural experiences that are different from our own, and showcasing the contributions of art and artists to sustainable development. It is no accident that World Art Day is celebrated on the birthday of Leonardo da Vinci, the celebrated Italian polymath who used art to express emotions, articulate technological concepts well before their time, and understand the workings of human anatomy.
Takaski Mitachi, a moderator of the 2019 global conference panel on Innovation through Art: Leveraging Disruption for a Sustainable Ecosystem, said that "Art can add value so that we could drive innovation beyond logic and data." In a sense, the fine arts are a way of expressing our observations about the world around us, similar to how an original scientific hypothesis attempts to explain phenomena we observe and want to test. While scientific investigation builds on data and logic to test a hypothesis, art gives us a different way of knowing our world that extends beyond just data and logic. When we explore the arts, we broaden our understanding and interpretation of the world and bring these new perspectives to our scientific and technological explorations. Art is a disruptor of staid ways of thinking about and approaching problems, and like many other disruptors in our world, it can drive innovation.
In an article in the MIT Technology Review, author Sarah Lewis discusses the relationship between the arts and scientific breakthroughs. She notes one study that found a disproportionately high number of Nobel Prize-winning scientists also pursue art, writing or music as serious avocations. When asked why achievement in art and science seem to go together, she replied: "What the arts allow us to do is develop the muscle required for discernment and also strengthen our sense of agency to determine for ourselves how we're going to tackle a given problem…Ultimately it's up to the person creating the work to determine what that path is, and that kind of agency is what's required for innovation."
If you visit any Promega facility around the globe, you will find that artwork adorns the walls, the walkways and even the parking garages. Many of our buildings themselves combine amazing aesthetics of design with sustainable features. Art has always been part of the corporate culture of Promega. The Promega Art Showcase has been sponsored quarterly since 1996 and includes an Employee Art Show each year. Additionally, for more than a decade, Promega has been a sponsor of the UW-Madison Cool Science Image Contest which celebrates the art of scientific investigation—bringing a fresh perspective to science and providing an entry point for nonscientists to explore new ideas. Building on this concept, our associates at Promega Switzerland recently sponsored a science-art contest among their customers, and the entries were amazing (you can see them on the Promega Switzerland Instagram account— and look for an upcoming blog about the research into squid communication which inspired the winning entry).
Cartoonist and scientist Ed Himelblau has created over 100 cartons for Promega about life in the lab—capturing and commenting on scientific research in a way the peer-reviewed paper can't. Dr. Himelblau is a professor in the Biological Sciences Department at California Polytechnic State University and brings his wealth of experience supervising students in the laboratory to his science cartoons. His cartoons provide a way for scientists to share common experiences, and laugh about them, while giving people who don't live a life at the lab bench an inside peek. Dr. Himelblau's cartoons can now be seen in The New Yorker as well as on the Promega Corporation website.
The artwork on our packaging comes from scientist David Goodsell, an associate professor in the Department of Molecular Biology at the Scripps Research Institute in La Jolla, California and one of the world's leading molecular artists. You can find much of Dr. Goodsell's art shared freely on the RSCB Protein Data Bank where he helps scientists visualize the 3D structures of cellular proteins and the way they interact. The artwork on the Promega packaging is inspired by the Central Dogma of biology and when asked to talk about how the artwork came together, Dr. Goodsell said that the finished piece was "almost like a sunrise over a molecular landscape." He further stated that he hoped his illustrations spark excitement about the subcellular world.
Art can communicate complex scientific concepts, and teach us about our world. It can also help us express awe, joy, grief and humor. It inspires us, helps us laugh, and reminds us of the humanity that motivates our scientific explorations. How will you be celebrating #WorldArtDay2022?
---
Want to see more art work? Jump over to our Promega Corporation Instagram account to see more of the art from our branch offices around the globe.
---
The following two tabs change content below.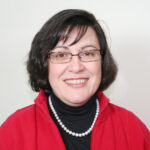 Michele earned her B.A. in biology at
Wesleyan College
in Macon, GA, and her PhD through the BCDB Program at
Emory University
in Atlanta, GA where she studied cell differentiation in the model system C. elegans. She taught on the faculty of Morningside University in Sioux City, IA, and continues to mentor science writers and teachers through volunteer activities. Michele supervises the digital marketing program group at Promega, leads the social media program and manages Promega Connections blog.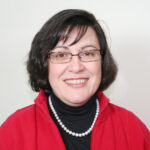 Latest posts by Michele Arduengo (see all)