My daughter has a favorite tree, The Old Willow Tree, at Aldo Leopold Nature Center in Madison. I don't know exactly how much time she has spent in that tree, but I suspect it is significant.
Trees have served as the source of inspiration for scientists' careers, writers' metaphors, and musicians' nostaglia.
One of our science writers at Promega tells this story about an early "botanical" experiment he and his grandmother performed:
"When I was four, my grandma helped me plant a 'helicopter' in a butter dish. It slowly graduated to a Cool Whip container, then a family-sized takeout tub from a spaghetti joint. It's now the largest tree on my parents' property." –Jordan Villanueva
When I was in college, the campus quad was lined with ancient Ginkgo trees that filled my morning walks to my fall classes with shimmering gold leaf. I remember those trees with such fondness that the first tree I planted when I moved to Wisconsin was a Ginkgo tree.
There's something about trees…we wax poetic and become nostalgic; we include them in our literature and art as important symbols and teachers of life lessons.
I remember sitting on my Dad's lap when I was a kid and hearing about Ents, the guardians of the forest and the oldest creatures in Middle Earth. The Whomping Willow in the Harry Potter stories holds plot secrets and provides comic relief, and the Meliai Ash trees that are brought back to life in The Burning Maze provide hope for a dark time. Trees like Shel Silverstein's, The Giving Tree, have helped young readers develop values and learn life lessons, and trees have been used, like the Oak tree outside Boo Radley's house in To Kill a Mockingbird, to represent both the best and the worst of human nature.
The Time Traveler's Trees
Aldo Leopold wrote extensively about the tall pines of Wisconsin in A Sand County Almanac, revealing how the trees and the spacing of their limbs tell about the history of the area—years of floods, fires or seasons of great growth; he notes how much memory the trees have, and he declares their collective wisdom:
"Each species of pine has its own constitution, which prescribes a term of office for needles appropriate to its way of life; Thus the white pine retains its needles for a year and a half; the red and jackpines for two years and a half. Incoming needles take office in June, and outgoing needles write farewell addresses in October. All write the same thing, in the same tawny yellow ink, which by November turns brown. Then the needles fall, and are filed in the duff to enrich the wisdom of the stand. It is this accumulated wisdom that hushes the footsteps of whoever walks under pines." Aldo Leopold, Sand County Almanac
2022: A Tree Odyssey
Perhaps there is a good reason for our collective admiration of trees. According to the Arbor Day Foundation, trees help maintain clean air, clean water, and moderate climate. The Arbor Day Foundation is ramping up for the 150th anniversary of Arbor Day in 2022, with their campaign "The Time for Trees". The goal of this campaign is to plant 100 million trees in forests and communities around the globe and to inspire 5 million tree planters.
According to the Arbor Day Foundation, the benefit of 100 million trees across their life span includes:
Absorbing 8 million tons of carbon, the equivalent of taking 6.2 million cars off the road for one year.
Intercepting and filtering 7.1 billion cubic meters of water runoff, enough water to fill the water bottle of every person on Earth every day for five years.
Removing 578,000 tons of chemical air pollution from our atmosphere, enough gaseous pollution to fill 70,000 Goodyear blimps
Saving Trees
Trees are a priority at Promega too. Since 2008, Promega has had the goal of reducing print/paper usage by transitioning from printed communications, such as catalogs and manuals, to digital media. In the first year of this project, we reduced total paper usage by over 80%, and we have continued to reduce our paper usage with an additional 50% decrease since 2014 (pdf).
Our sustainability efforts so have also included decreasing the size of packaging materials (such as using smaller shipping boxes) and designing new packaging that uses materials produced using sustainable forestry practices. In addition to having the Helix® on-site stocking program to make product distribution more sustainable, Promega purchases carbon credits to offset the greenhouse gas emissions from energy use of the Helix® System—from shipment to distribution to stocking. These carbon offsets have been used to support several reforestation projects over the years including the Mississippi Alluvial Valley Reforestation Initiative in 2017.
When I asked my colleagues about their special tree memories, I got some great stories—from climbing Sweet Gum trees in the Southeastern US (and rescuing cats from them) to playing an original game called "Nutmeg" around a small tree in a front yard. Several people talked about walking among the Giant Sequoias and Redwoods on the US west coast for the first time and the feelings of awe and responsibility those hikes inspired.
So, how will you celebrate Arbor Day 2019? Will you make "Time for Trees" by planting one toward the goal of 100 million by 2022? Or will you identify a tree pathogen, understand more about a rainforest ecosystem, or just simply sit underneath your favorite tree and enjoy its shade? Today at Promega a few of us are enjoying our spring weather under the trees in the woods behind our R&D building, but given the weather forecast for 3–5 inches of snow, tomorrow we may be snow shoeing in under the canopy!
Happy Arbor Day!
The following two tabs change content below.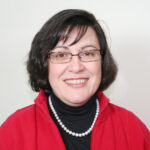 Michele earned her B.A. in biology at
Wesleyan College
in Macon, GA, and her PhD through the BCDB Program at
Emory University
in Atlanta, GA where she studied cell differentiation in the model system C. elegans. She taught on the faculty of Morningside University in Sioux City, IA, and continues to mentor science writers and teachers through volunteer activities. Michele supervises the digital marketing program group at Promega, leads the social media program and manages Promega Connections blog.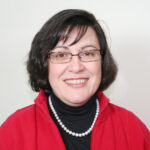 Latest posts by Michele Arduengo (see all)