As a mother, there are things that you just can not anticipate. Take this morning for example.
"Mom!" My daughter yelled, "There are tadpoles on the kitchen floor."
The worst part was I knew I had only myself to blame. You see I had promised my kids that we would go on a picnic to a small city park near our home. The big attraction for this park is the small pond. To me, the pond looks like a scum-covered tick and mosquito haven. To my kids it looks like a destination from National Geographic. It is like a small jungle only a few blocks from our house.  It is a place to sail boats, spot fish, (yep, fish live there), pick dandelions, chase bugs and catch frogs. In short, a kid's paradise on earth.
The driving purpose for this week's visit was frog catching. And so we went on our picnic appropriately equipped with sandwiches, fruit, water bottles, a blanket and a large aquarium net.
My daughter got the first turn with the net and quickly netted a frog.
This was followed closely by a giant tadpole.
Not one to be out done by his little sister, my son spent the first ten minutes of his turn with the net in an unsuccessful attempt to catch a fish.
Finally he gave up on the fish and went after some frogs as well.
Just as we were about to leave, he made the discovery of the trip, tiny little tadpoles that looked to have just hatched in the slime and weeds at the edge of the pond. There were hundreds of them.
So many, in fact, that you could scoop them up with your bare hands.
The aquarium net was quickly abandoned in favor of their water bottles, and each of them returned home last night with 23.7 Fl. Oz. of pond water and tadpoles.
Unfortunately, water bottles do not make the most stable of tadpole homes, and tiny tadpoles are very difficult to pick up off the floor. My son discovered both of these things this morning when he spilled some of his tadpole/pond water on the kitchen floor.  We managed to scoop them into a large puddle and then onto a piece of plastic and back into the water bottle. Hopefully they will survive their adventures.
This isn't the first time we have captured tadpoles from this pond. I love doing things like this with my kids. They get so excited watching the changes, they don't even realize that they are learning at the same time. They learn what tadpoles eat and what frogs eat. We talk about their life cycles and what kind of environment they need to live in. All the while they think that they have the coolest Mom ever for letting them keep their "pets" for several weeks in their rooms.
Last time we took home two of the giant ones, watched them develop into frogs and then turned them loose. I am pretty sure that they were bull frogs.
This year we will be raising an uncountable number of these tiny ones.
I've no idea what kind they are. Time will tell I guess.
The following two tabs change content below.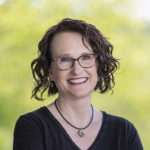 Kelly earned her B.S. in Genetics from
Iowa State University
in Ames, IA. Prior to coming to Promega, she worked for biotech companies in San Diego and Madison. Kelly lives just outside Madison with her husband, son and daughter. Kelly collects hobbies including jewelry artistry, reading, writing and knitting. A black belt, she enjoys practicing karate with her daughter as well as hiking, biking and camping.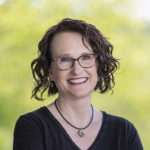 Latest posts by Kelly Grooms (see all)