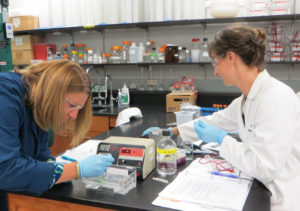 Today's blog is jointly written by guest blogger Peter Kritsch, Biotechnology and Biology Teacher at Oregon High School and contributor Barbara Bielec. K-12 Program Director at the BTC Institute.
The BTC Institute has offered two graduate-level courses for high school teachers for many summers. Biotechnology: The Basics and Biotechnology: Beyond the Basics have become very popular and are also drawing the interest of middle school teachers. So, this June we piloted a new 3-day course designed specifically for them. Representing different schools and districts, eight teachers learned how to extract DNA from strawberries, pour and run agarose gels, identify a taste gene, and received information on lots of resources to use with their students.
Through the BTC Institute's Biotechnology Teacher Academy, these courses are offered at no cost and $300-$500 stipends are available. A main Academy goal is to provide high quality professional development opportunities that prioritize content that participants can smoothly incorporate into their classrooms. Our commitment to stipends is generously supported by the Wisconsin Space Grant Consortium (WSGC), Promega Corporation, Madison College and the BTC Institute. (All three courses are offered for graduate credits from Edgewood College, and Viterbo University also offers credits for the two geared to high school teachers.)
The importance of this approach is affirmed by Sherry Jacobsen (Kromrey Middle School in Middleton, WI):
This [course] is such a gift to teachers! Many times we aren't treated as professionals so it was nice to be treated as a professional without a high personal cost. I love how the course is so practical. Many courses are only in theory and no application. I can take so many useful ideas with me.
Biotechnology is making its way into the middle school classroom. With access to the BTC Institute's Equipment Loan Program, teachers can check out micropipettes, gel boxes & power supplies, an ultraviolet light box and other equipment for up to two weeks. Course participant Amy Reimer (Core Knowledge Middle School in Verona, WI), has already taken advantage of this program and noted that it was "great to review procedures" through the course and plans to borrow equipment again this coming year.
Peter Kritsch (Biotechnology and Biology Teacher at Oregon High School) and Barbara Bielec (K-12 Program Director at the BTC Institute) served as the lead instructors. They have co-taught biotechnology courses for teachers since 2007, and both have observed that interest from middle school teachers has really increased in recent years.
I had a great time working with the middle school teachers. It is fantastic that many DNA-related concepts are making their way into the middle school curriculum. The teachers saw how micropipetting, gel electrophoresis, transformations, genetic testing, and PCR can really make learning about DNA become so much more relevant to students. I was really impressed by the middle school teachers who participated and their passion for learning and teaching. At the same time, I also learned new perspectives on how to teach science. That is what makes taking any of the teacher courses at BTCI so much fun and rewarding- the opportunity to learn from so many great teachers from around the country. —Peter Kritsch
One objective of the course was to help teachers make connections between biotechnology and NASA objectives and research efforts. Guest speaker Ben Knox (graduate student, UW-Madison Department of Medical Microbiology & Immunology) directly addressed this topic, providing a fascinating presentation of research that involves testing Aspergillus fumigatus strains found on the International Space Station. Ben utilized this work as the basis for a lesson on scientific literacy for middle school students – also providing the initial journal article, and subsequent scientific blogs on the research, both accurate and inaccurate. (1, 2, 3)
NASA and the WSGC wisely recognize the need for training throughout many scientific disciplines, and as plans are made for humans to travel, explore, and someday live in space, biotechnology joins other technologies to support these efforts. Often students and teachers do not realize how the life sciences relate to NASA goals and, therefore, another important objective of this project is to highlight how biotechnology is and will be used in space exploration. Biotechnology training, along with training in other STEM fields, is needed to support secondary teachers, those key educators who directly influence the scientists and engineers of tomorrow.
Providing specific examples for teachers of NASA's life science research helps educators meet their school districts' incorporation of the Next Generation Science Standards (4) which include space science, and helps meet the goal of increased literacy in all fields, including science.
Teacher responses to Ben's talks were all very positive. As Amanda Shipley (Kromrey Middle School in Middleton, WI) explained:
This information is so interesting to me. I can see myself tying a lot of it into my literacy curriculum. We do a research paper for one of our units. This could potentially be a topic or students could explore current NASA-related research.
Megan Wagner, teacher at Cardinal Heights Upper Middle School in Sun Prairie, WI agreed:
This is a fascinating topic. Who would think about pathogens "hitchhiking" to space and causing all sort of problems for providing life and astronauts' health?!!
The course was also enriched by other guest speakers, including: Margo Grady, Genetic Counselor ProHealth; Leith Nye, Education & Outreach Specialist, Wisconsin Energy Institute, Great Lakes Bioenergy Research Center; and, Dan Murphy, Outreach Coordinator, Morgridge Institute for Research. For example, Dan provided a presentation and led a lab activity on stem cells that are designed to teach middle school students about cell differentiation.
In quick summary: Amy Hintzman (Lake Forest Country Day School in Lake Forest, IL) wrote:
I thought there was a great variety of topics, as well as lab time vs. speakers. Connections to people in the field and with resources was very helpful!
The BTC Institute looks forward to holding this special middle school course again in summer 2018!
References
Knox BP, Blachowicz A, Palmer JM, Romsdahl J, Huttenlocher A, Wang CCC, Keller NP, Venkateswaran K. 2016. Characterization of Aspergillus fumigatus isolates from air and surfaces of the International Space Station. mSphere 1(5):e00227-16. doi:10.1128/mSphere.00227-16.
ASM Communications, Examining Aspergillus fumigatus on the Space Station, Wednesday, 26 October 2016 13:55
Hays, Brook. A pathogenic fungus grows in space. Oct. 26, 2016 at 6:19 PM
https://www.nextgenscience.org/
The following two tabs change content below.
Barbara Bielec received her B.S. in Genetics from UW-Madison and her M.S. in Genetics from Texas A& M University. She has secondary teaching certification in Biology, Chemistry, and Math; and has taught science to students of all ages, in many different settings for over twenty-five years. Currently she coordinates and teaches a variety of K-12 programs at the BTC Institute including: the Youth Apprenticeship Program - Biotechnology, the Biotechnology Field Trip program, the African American Ethnic Academy (AAEA)/ BTC Institute science program "A Celebration of Life" and teacher workshops. This biotechnology outreach position includes grant writing, grant review, and presenting at national and state conferences. Memberships include the National Association of Biology Teachers (NABT), the National Science Teachers Association (NSTA), and the Wisconsin Society of Science Teachers (WSST).
Latest posts by Barbara Bielec (see all)