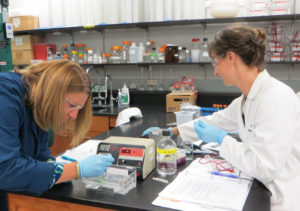 Today's blog is jointly written by guest blogger Peter Kritsch, Biotechnology and Biology Teacher at Oregon High School and contributor Barbara Bielec. K-12 Program Director at the BTC Institute.
The BTC Institute has offered two graduate-level courses for high school teachers for many summers. Biotechnology: The Basics and Biotechnology: Beyond the Basics have become very popular and are also drawing the interest of middle school teachers. So, this June we piloted a new 3-day course designed specifically for them. Representing different schools and districts, eight teachers learned how to extract DNA from strawberries, pour and run agarose gels, identify a taste gene, and received information on lots of resources to use with their students.
Through the BTC Institute's Biotechnology Teacher Academy, these courses are offered at no cost and $300-$500 stipends are available. A main Academy goal is to provide high quality professional development opportunities that prioritize content that participants can smoothly incorporate into their classrooms. Our commitment to stipends is generously supported by the Wisconsin Space Grant Consortium (WSGC), Promega Corporation, Madison College and the BTC Institute. (All three courses are offered for graduate credits from Edgewood College, and Viterbo University also offers credits for the two geared to high school teachers.)
The importance of this approach is affirmed by Sherry Jacobsen (Kromrey Middle School in Middleton, WI):
This [course] is such a gift to teachers! Many times we aren't treated as professionals so it was nice to be treated as a professional without a high personal cost. I love how the course is so practical. Many courses are only in theory and no application. I can take so many useful ideas with me.
Biotechnology is making its way into the middle school classroom. With access to the BTC Institute's Equipment Loan Program, teachers can check out micropipettes, gel boxes & power supplies, an ultraviolet light box and other equipment for up to two weeks. Course participant Amy Reimer (Core Knowledge Middle School in Verona, WI), has already taken advantage of this program and noted that it was "great to review procedures" through the course and plans to borrow equipment again this coming year. Continue reading "A Successful Launch for Biotechnology: The Basics for Middle School Teachers"