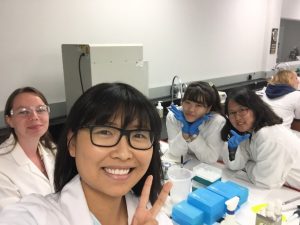 Last fall, I blogged about our partnership with Promega-Hannam BTCI at Hannam University in Daejeon, Korea , providing an overview of the ways in which we have collaborated over the years.
This year, 2016,  included the participation of two Hannam students, Pureum Jeon and Hajeong Sim, in one of our advanced courses, Core Techniques in Protein and Genetic Engineering (CTPGE), which offers graduate credits through the University of Wisconsin-Madison. UW-Madison is a bustling campus with a large international student, staff and faculty population, and Promega Corporation is a global company with a diverse workforce that brings a steady stream of international visitors to its main campus in Fitchburg. My sense is that sometimes those of us who live and work in environments like this, who also regularly tap into global news, can lose touch with what it's like to leave home and travel to a completely new place, perhaps somewhere far away where the language spoken is not your own.
Our experience with Pureum and Hajeong this summer was a reminder of how important these experiences can be for those who make these journeys. Their participation in the course provided them with valuable training, but the small things, like walking around the UW campus, having dinner with one of us, driving through rural Wisconsin and feeling welcomed at the hotel, also meant so much.
In their own words, here are a few of their thoughts: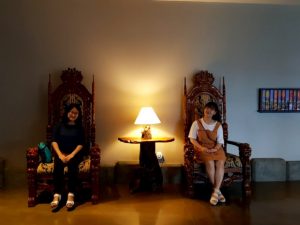 From Pureum:
I was anticipated when I decided to go Madison. Especially, It was my first trip to other country except for Japan. And I feel that new experiences are very interesting always. First of all, the object of visit Madison was participate the BTCI Program – Core Techniques in Protein and Genetic engineering. I learned in neurobiology laboratory. The lab do molecular biology techniques, Mainly. So, this program is helpful to me. In this program, we are learned many techniques in biology area through lectures and laboratory works with some great teachers. They are always smiled and tell joke sometime.

Besides I had experienced in Madison with help of several people. Karin, Natalie, Amy, Ryan and Jackie in BTCI are help for a few days. I went many places in Madison. Capital, Union Terrace, botanical garden, EPIC-computer programming company, pasture, zoo, and so on. Madison is have big lakes. Many people are swimming or ride wind surfing on the lake. I felt strongly that Madison people are free and Kindness. I'm very envious the culture of Madison. The Last day in Madison, I ride the bus. Bus is very slow compare to Korea bus. So, I can saw Madison well. When i take off the bus, saw fireflies. It was amazing.

I never forget experiences in Madison. Thank you to people in Promega, BTCI. I want to go to Madison, again.
From Hajeong:
I'm a senior in Hannam University in Korea and majoring in biological sciences and biotechnology. I visited BTCI last month and attended core techniques program as part of a foreign field trip program. Just before I arrived in Madison, I had little concern about America because of those days' unstable international circumstances. However, Madison is relaxed cozy city. It has beautiful natural environment and warm ambience so I really felt comfortable. I enjoyed farmer's market, art fair, art museum, of course lake view of Union Terrace and even Epic!
While staying in Madison, all BTCI staffs courteously care me and my friend Pureum. Before the program start, we visited laboratory in advance and carried out simple experiments. Then, I could feel much relieved. Even though it was hard to understand lecture thoroughly because I'm a non-native, whole presentation materials and precise explanation of instructors helps me a lot to understand. Furthermore, whole programs were well-organized. So even though I just attended 5 days program, I could experience different ways of experiments and performed various controls. I could experience and learn a lot through those times. Thank you all again for your laudable effort.
We learned a lot from them, too, and are looking forward to welcoming students from Hannam University to a course or two again in 2017!
The following two tabs change content below.
Karin Borgh, PhD is the Executive Director of the BTC Institute.
Latest posts by Karin Borgh (see all)