For the past five months, I have been the outside observer to the conception, gestation and birth of a scientific app for the iPad®, the new Interactive Cell Signaling Pathways Tool that is now part 6 of the Promega iPad® App.
You see, my cube neighbor and fellow blogger, Michele, is one of the driving forces behind this App.While most of us were enjoying the pleasant late-summer and early fall weather, she spent those weeks pouring over papers and writing madly.
Next, (while I maintained a safe distance) she spent several days muttering over pages of her writing that was now covered with red ink kindly contributed by her fellow scientists (a.k.a., reviewers).
At the same time she and our coworker, Maciek, were working to capture the essence of these cell-signaling pathways in a graphical representation. This involved them spending whole days on the floor drawing pathways on giant pieces of paper.
While Michele was sending the text out to her reviewers for a second time, my across-the-aisle neighbor, Maciek, had the head-banging-against-a-brick-wall fun of creating a graphical representation that meshed with the content of the text, while at the same time writing all the programing code that would make all the pieces play well together. These weeks were filled with long periods of eerie silence from Maciek's desk, punctuated with loud exclamations (in Polish) and followed by several minutes of pacing. Much as I did not envy Michele her task, I envied Maciek his even less.
Finally there was a prototype. The graphics and text were all bundled together and on the iPad®. Before Michele and Maciek could pop open the bubbly though, they had to turn their baby over to— The Testers.
We are fortunate to have some of the best scientific mobile app testers around right here in our department. Terri and Sara are both former Promega Technical Services Scientists as well as some of the scientists who had previously contributed to the red ink on Michele's text. They are very thorough and one in particular seems to excel at breaking all manner of programs and applications.
If the App could survive Terri and Sara, it was ready for prime time. After a few last tweaks to the App, it was time for last (but hardly least) part of the process: submitting it to Apple and awaiting approval. As anyone who had ever submitted some of their work anywhere for anything knows this wait can be excruciating. You have sent your brainchild off and all you can do is wait for some stranger to deem your work "worthy".
And so they did.
There is, as the saying goes, no rest for the Mobile App Wiz. Last I saw Michele and Maciek, they had their heads together over diagrams of p38 and JNK pathways.
I guess that bubbly will have to wait a little longer.
The following two tabs change content below.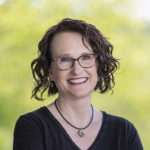 Kelly earned her B.S. in Genetics from
Iowa State University
in Ames, IA. Prior to coming to Promega, she worked for biotech companies in San Diego and Madison. Kelly lives just outside Madison with her husband, son and daughter. Kelly collects hobbies including jewelry artistry, reading, writing and knitting. A black belt, she enjoys practicing karate with her daughter as well as hiking, biking and camping.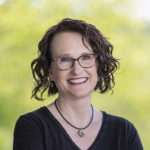 Latest posts by Kelly Grooms (see all)