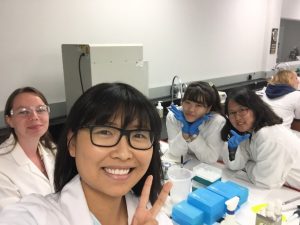 Last fall, I blogged about our partnership with Promega-Hannam BTCI at Hannam University in Daejeon, Korea , providing an overview of the ways in which we have collaborated over the years.
This year, 2016,  included the participation of two Hannam students, Pureum Jeon and Hajeong Sim, in one of our advanced courses, Core Techniques in Protein and Genetic Engineering (CTPGE), which offers graduate credits through the University of Wisconsin-Madison. UW-Madison is a bustling campus with a large international student, staff and faculty population, and Promega Corporation is a global company with a diverse workforce that brings a steady stream of international visitors to its main campus in Fitchburg. My sense is that sometimes those of us who live and work in environments like this, who also regularly tap into global news, can lose touch with what it's like to leave home and travel to a completely new place, perhaps somewhere far away where the language spoken is not your own.
Our experience with Pureum and Hajeong this summer was a reminder of how important these experiences can be for those who make these journeys. Their participation in the course provided them with valuable training, but the small things, like walking around the UW campus, having dinner with one of us, driving through rural Wisconsin and feeling welcomed at the hotel, also meant so much.
In their own words, here are a few of their thoughts: Continue reading "The Unforgettable Experience of Traveling: Beyond the Formal Learning Experience"