Smart phones have become almost ubiquitous in our society today. These portable "second brains" come with a whole host of applications (apps) from which we can pick and choose. Need help remembering to pay your bills? There is an app for that. Need to look up a word? There is an app for that. Want to take hip and fun photos? There is an app for that. As scientists, there are mobile apps made just for us. There are apps that offer protocols, publications and buffer recipes just to name a few.
It used to be that the only apps we used in the Doctor's office were those we used to fill the time while we waited for our appointment, but that might be changing. In the not-so-distant future, if you suspect that junior has an ear infection you might be able to take a picture of the little tyke's ear with a special adaptor and the right app. Send the image on to your doctor, and they will tell you if you need to come in for an office visit or not (1). And that is not all, from strokes to thyroid disease, lung function and magnetic resonance imaging (MRI), the world of medicine has collided head on with the world of mobile apps.
An App for Your TSH Assay
A number of these "medical apps" take advantage of one or both of two key features of most smart phones, their high-resolution camera and high-quality displays. For example, an app described recently at the 82nd Annual Meeting of the American Thyroid Association (ATA) uses a device that takes advantage of the LED flash on iPhone cameras to optimize illumination and focusing on Thyroid-stimulating hormone (TSH) immunochromatagraphic assays, allowing a specially designed app to take the image and convert it into quantitative TSH values. When this app was used with a light pipe, it was able to detect whole-blood TSH concentrations as low as 0.1mIU/L (2). This is significant because traditional point-of-care TSH assays are limited in that they are unable to detect low levels of TSH.
Apps for MRIs and CT Scans
Another app called Mobile MIM allows physicians to examine scans from MRIs, computed tomography and other technologies even when they are nowhere near their computers (3). This makes discussions with patients easier, as doctors can use their iPhones to go over scan results and discuss treatment options right at the bedside. Similarly, an article published in the June issue of the Journal of Medical Internet Research described a teleradiology system that used a client server that stored CT scans, and smartphones to access the 2D and 3D imagery on the server (4). The images were rendered on the device without the storing the patient imagery. The study compared the accuracy of diagnosing acute stroke using a traditional workstation or accessing the images using the teleradiology system. The results suggest that this system might aid doctors when they need to make urgent treatment decisions in the case of acute stroke.
An App for Vital Signs
Finally, a team from the Worcester Polytehnic Institute has developed and app that measures heart rate, heart rhythm, respiration and blood oxygen saturation just by using the phone's built-in video camera (5). The patients just press their fingertip to the camera lens. The camera's light can penetrate the skin and reflect off the blood in the finger. The app uses subtle shifts in color to identify changes in the patient's vital signs.
An App to Monitor Lung Function
The camera and high-resolution displays are not the only tools that people are using to develop medical apps. A tool developed at the University of Washington, UW Medicine and Seattle Children's hospital lets people accurately monitor their lung function just by blowing into the built-in microphone on their smartphones. By modeling people's trachea and vocal tract as a system of tubes, researchers found that they could analyze the sound wave frequencies from the breath resonating in these "pipes" to tell them how much flow is going through the trachea and vocal tract. This is the same information that a portable spirometer gathers by different means. When they compared the smartphone results to those of a spirometer, the results were within 5 percent, which meets the medical community's standards for accuracy (6).
The apps described here are by no means a comprehensive list of medical apps available. A brief look at the abstracts from the Medicine 2.0 meeting in Boston earlier this month (7) indicates that there are many more on the horizon.  Among the apps described was one designed to monitor and track pain in adolescent cancer patients and one designed to assess the surface areas of burn injuries in the case of a catastrophic event and provide the user with information and instructions for treatment.
The App Will See You Now?
Will a smartphone with the right app ever take the place of your doctor? I don't think so. However, a doctor armed with a smartphone and a wide range of apps might mean more accurate and faster answers as well as better tools to explain diagnosis and treatment options and monitoring patient progress. These could all add up to better patient outcomes.
A healthier you and me? There just might be an app for that, and I hope my doctor has it.
References
The following two tabs change content below.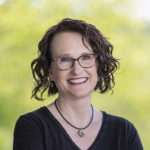 Kelly earned her B.S. in Genetics from
Iowa State University
in Ames, IA. Prior to coming to Promega, she worked for biotech companies in San Diego and Madison. Kelly lives just outside Madison with her husband, son and daughter. Kelly collects hobbies including jewelry artistry, reading, writing and knitting. A black belt, she enjoys practicing karate with her daughter as well as hiking, biking and camping.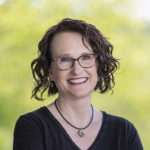 Latest posts by Kelly Grooms (see all)