20 Years of Human Pluripotent Stem Cells: Current Clinical Trials and Regulatory Framework
April 18, 2018 | Madison, WI
Over the years, the BTC Institute has partnered with the Stem Cell & Regenerative Medicine Center, at the University of Wisconsin-Madison to offer this packed day of excellent talks and opportunities to interact with renowned speakers, poster session presenters, sponsor representatives and other attendees.
Our UW-Madison committee members define each year's content and pull together a strong group of presenters.  This year, we're working with Timothy J. Kamp, M.D. (Professor, Medicine, Cell and Regenerative Biology; Co-director, Stem Cell and Regenerative Medicine Center), William L. Murphy, Ph.D. (Professor, Biomedical Engineering, Orthopedics & Rehabilitation; Co-director, Stem Cell & Regenerative Medicine Center) and James Thomson, Ph.D. (John D. MacArthur Professor, Director, Regenerative Biology, Morgridge Institute for Research; Professor, Department of Molecular, Cellular, & Developmental Biology, University of California – Santa Barbara).
Our 2018 symposium brings together leading researchers advancing human pluripotent stem cell products to clinical applications for a range of degenerative diseases. Progress in clinical trials, as well as major barriers for developing these revolutionary new therapies will be discussed.
As Dr. Kamp notes, "This will be a remarkable meeting highlighting the emerging field of regenerative medicine which has grown from the pioneering discovery of human embryonic stem cells 20 years ago."
More specifically, these topics will be discussed:
Human pluripotent stem cell therapies for diabetes, ocular disease, spinal cord injury, Parkinson's disease, and heart failure
Biomanufacturing of clinical grade cellular products
Overcoming immunological barriers for human pluripotent stem cell-based therapies
Defining safe and effective human pluripotent stem cell clinical products
Our list of confirmed presenters includes:
Kapil Bharti, Ph.D., Stadtman Investigator, Unit on Ocular Stem Cell & Translational Research, National Eye Institute, National Institutes of Health, Bethesda, MD
Dennis Clegg, Ph.D., Professor, Wilcox Family Chair in BioMedicine, Molecular, Cellular, and Developmental Biology, University of California, Santa Barbara, Santa Barbara, CA
Derek Hei, Ph.D., VP Manufacturing, Quality, and Regulatory, BlueRock Therapies, Cambridge, MA
Jane Lebkowski, Ph.D., President of R & D and Chief Scientific Officer, Asterias Biotherapeutics, Fremont, CA
Richard McFarland, M.D., Ph.D., Chief Regulatory Officer, Advanced Regenerative Manufacturing Institute, Manchester, NH
Philippe Menasché, M.D., Ph.D., Professor of Thoracic and Cardiovascular Surgery, University of Paris Descartes; Chief of the Heart Failure Surgery Unit, Hôpital Européen Georges Pompidou, Paris, France
Felicia Pagliuca, Ph.D., Scientific Co-Founder, Vice President of Cell Biology Research and Development, Semma Therapeutics, Cambridge, MA
David Russell, M.D., Ph.D., Professor of Medicine, Division of Hematology; Adjunct Professor of Biochemistry, University of Washington School of Medicine, Seattle, WA
Lorenz Studer, M.D., Ph.D., Director, Sloan-Kettering Center for Stem Cell Biology; Professor, Department of Neuroscience, Weill-Cornell Graduate School, New York, NY
The registration fee is $100, discounted to $50 for students and post-doctoral researchers.  A poster contest and general poster session are included, as is a trade show. In addition to the coordinators, Platinum Sponsors include Promega Corporation, the University of Wisconsin School of Medicine and Public Health, the WiCell Research Institute and the Wisconsin Alumni Research Foundation.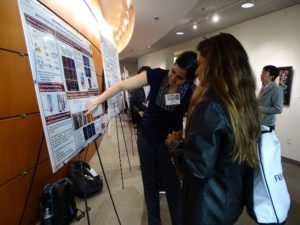 For more information and to register, please visit https://www.btci.org/events-symposia-2018/wisconsin-stem-cell-symposium/
The following two tabs change content below.
Karin Borgh, PhD is the Executive Director of the BTC Institute.
Latest posts by Karin Borgh (see all)